Compiere ERP Professional Services
Guaranteed implementation and dedicated support
Compiere Consulting
Let us help you map your business requirements to Compiere ERP to design the right solution
Compiere Implementation
Rapid implementation approach with end user involvement, project management to help you use the system quickly
Compiere Support
Dedicated support with flexible options for future enhancements to your ERP systems
---
Compiere ERP Specialized services
How do you want to handle deployment? With Compiere ERP, you have three options to choose from
Compiere On Premise
Compiere ERP can be set up within your enterprise in a centralized or distributed manner. Compiere ERP integrates with your existing applications and 3rd party systems using web services API.
Compiere On Cloud
Compiere ERP can be hosted on public or private cloud. Compiere ERP is readily available on Amazon cloud environment. Compiere provides a web interface to access the software anywhere anytime.
Compiere with postgres database
Compiere ERP runs on Oracle and EnterpriseDB database. However, TenthPlanet offers a value added plugin to use Compiere ERP with Open Source Postgres database.
---
What Can You Do With Compiere
Our Customers Love Us
Find out how our customers leverage Tenth Planet in our most recent case studies
Effectively access solution across locations and reduce dependency. Eliminate server bandwidth and performance issues.
Automate the inbound process, order fulfillment, accurate inventory levels, outbound process, customer returns, Account receivables, payables and invoicing.
Professional edition of Compiere product and use API's to integrate the CCHS and iTrack applications. Leverage the feature rich functionalities of the web Compiere ERP
Our Clients
---
What Our Clients Say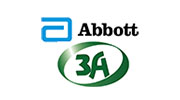 "Compiere ERP was successfully implemented, in HQ and across 8 regions, supporting the core business operations of 3A, with integrated accounting and reports"
-3A
Learn how 90% of our implementations were on time and on budget