All information like Customer, Users, Vendors, Products, Prices and other master information is centralized and available at your fingertips during different transactions. The master data doesn't need to be maintained multiple times per department and thus avoiding redundancy of data.
Selling Price gets automatically calculated based on Vendor Margin available. Upto 3 levels of warehouse pricing can be maintained and used for institutional customers. Selling Prices can also be updated in bulk when there is a need.
Managing Selling Prices
Margin based Selling Price calculation – Retail ERP helps users to calculate their selling price based on different margins. If the Mark Down percentage for the product is within a specific margin range then the discount configured in the margin screen is applied for calculating selling price for the product.
Business Rules
Users will be able to configure different margin ranges and discount %
The margin configuration cannot overlap
Users can set a different discount %, and apply it using the margin screen "apply all" process for all products that come within the margin range
The margin discount % gets applied for products that have selling margin type "Based on Slab"
The default selling margin type is "Based on Slab" for all products. Users can change the type to "Based on MRP", "Based on Landed Cost" and make necessary configurations for different price calculations
Users can configure different discount % for different wholesale prices and this gets applied for a specific product
UI/Layout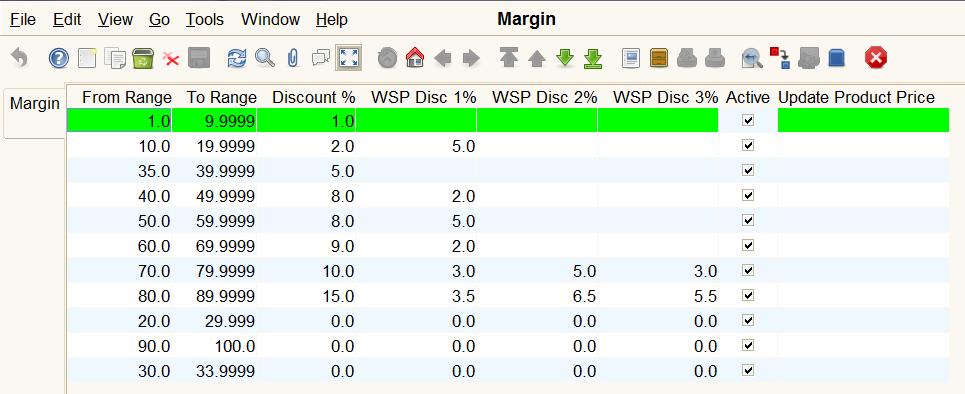 Markup/Markdown Management
The markup & markdown feature helps users to maintain the landed cost and selling price for a product.
Business Rules
Users will be able to capture the mark down/mark up percentage for a product in the product screen
These percentages can be adjusted manually or automatically based on user configuration of different other parameters like basic cost, selling price, mrp, discount, tax %
If the GKM option is enabled for the branch, the system will not allow users to set the mark down % less than the GKM %. This feature helps business to maintain their purchase margin for specific product from a specific vendor.
UI/Layout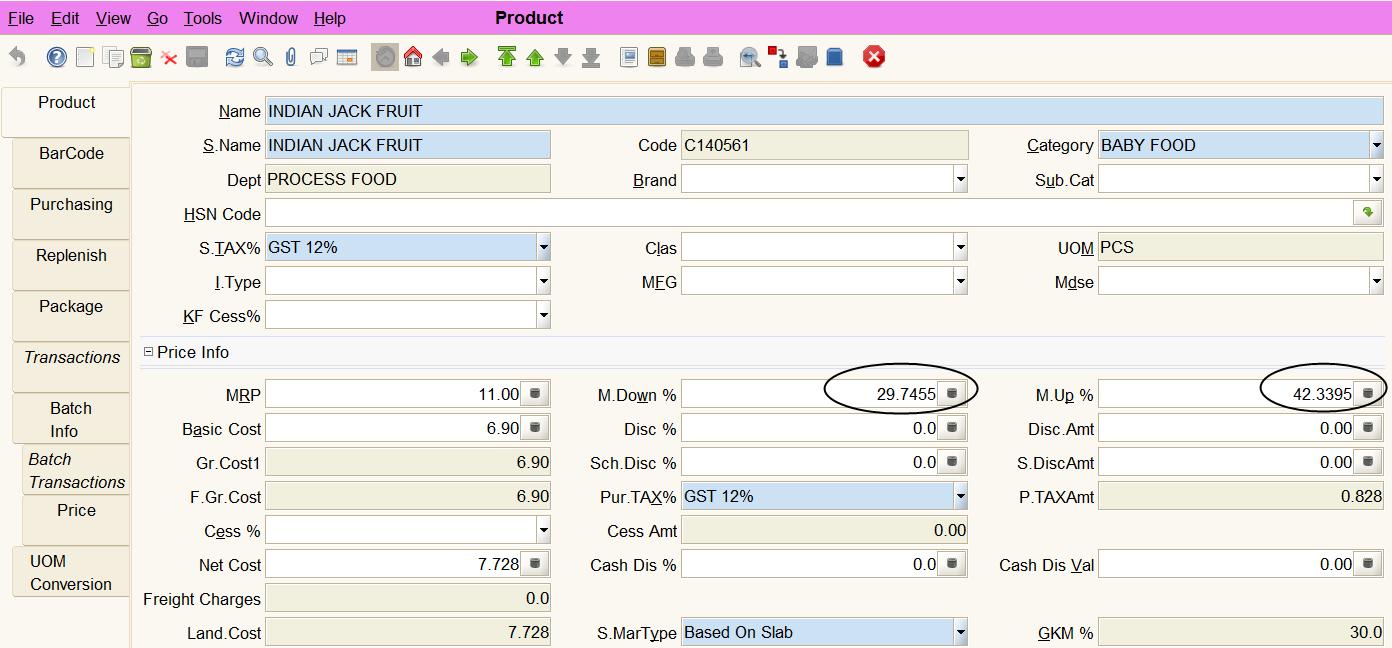 Wholesale Price Management
Users will be able to capture wholesale price for a specific product. This in turn will get applied for customers who buy in whole or otherwise wholesale customers.
Business Rules
Retail ERP application allows users to configure 3 different wholesale prices. Wholesale price 1, 2, & 3
These whole sale prices get calculated based on margin configuration when the selling margin type is "Based on Slab"
If the selling margin type is different, users can manually set the wholesale prices
In the customer screen users can set the appropriate price list based on the customer type
If the customer is a wholesale customer then among the wholesale prices configured one price list is configured
Based on this configuration the system will automatically pull the price during POS sales
UI/Layout



Selling Price Updates in Bulk
After initial configuration of products, over time users might want to update the selling price for different products based on departments, category, brand, sub-category, etc. Using the bulk update option users can do this process easily and quickly. This helps them to reduce manual errors and improve efficiency.
Business Rules
The selling price update screen helps users to filter the list of products that need to be updated
Users can select the type of price that needs to be updated (selling price, wsp 1, wsp 2, or wsp 3)
Users can update the selling price either based on landed cost or based on MRP
If MRP is selected a discount will be applied against the MRP which will be set as selling price
If Landed Cost is selected a margin will be set against the Landed Cost which will be set as selling price
Before updating the selling price, Retail ERP will show the "to be" updated selling price for the selected products
Once user verifies and clicks ok, the selling price will be automatically set for the particular product and also the batch that is matched with the product header based on MRP
UI/Layout



Tax Master
The tax master helps users to configure the GST tax information like CGST, SGST and IGST taxes both for purchase and sales. Tax configuration helps users to configure the right price both sales and purchase which will be used during transactions.
Business Rules
System will allow users to configure both the purchase taxes and sales taxes, including CESS
System also allows users to configure virtual warehouses for in-transit stock
Users can configure different tax categories and tax rates for both purchase and tax
In the product screen, users can configure the sales, purchase, and CESS taxes together
Once configured the system will take care of tax calculation in transaction screens automatically
The tax rates for CGST, SGST, IGST can be configured by users
UI/Layout