TenthPlanet has extensive domain knowledge in designing solutions and build an integrated platform for nonprofit organizations.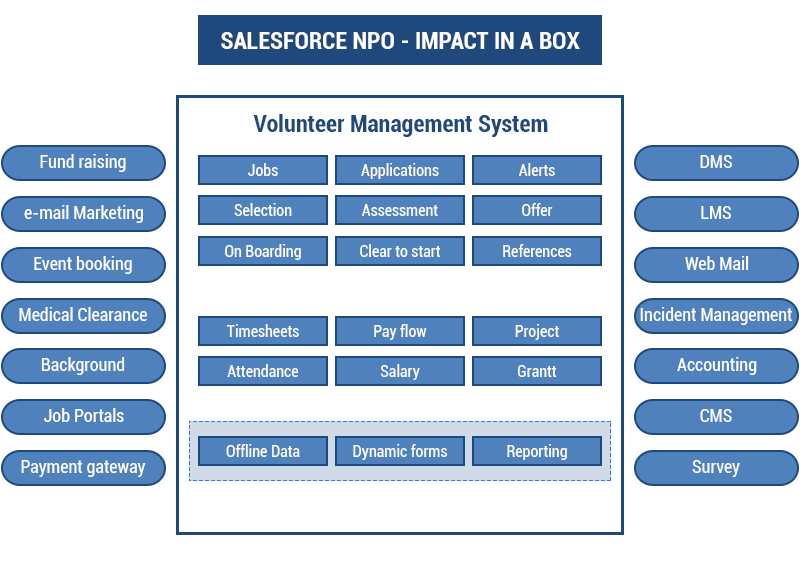 Our expertise includes customizing the Force.com platform to build an "VMS" – Voluntary Management system.
The process of recruiting a volunteer and an employee is completely automated in the Voluntary Management system and the Key Modules are listed below.
---
Recruitment
JOBS
Volunteering positions based on various themes and programs could be posted by Hiring Managers. All the necessary information like skills, qualification, placement location, type of contract are captured and posted in the web sites and job portals.
Register / Receive Alerts
The feature helps the volunteer to register for a job opening according to his skills and receive alerts, for matching opportunities. The volunteer can register for more than one opening to be notified.
Applications
The necessary information of the applicant like nationality, contact, address, available period, background, past employment is captured through this feature
Selection process
The entire selection activities for the Hiring Manager is automated from initiating the volunteer for selection and providing him an offer based on Assessment
Assessment
Provision to record interview results and assessment tests and based on selection criteria, an offer is placed
Offer
Preferred candidates are sent an offer and based on conditional acceptance; volunteer is prepared for on boarding
On Boarding
Provision to record Medical clearance, Background clearance, VISA and travel arrangements and pre departure training.
---
People
Timesheets / Attendance
Volunteers and employees can record their time log against various activities, roles and different projects they work on. Annual leaves and time off can be applied by the collaboration portal and approved by the Managers.
Payflow / Salary
Monthly or fortnightly Payflow processing can be initiated for volunteers and their salary records are updated based on Payband and attendance information.
Projects / Grantt
To effectively track the cost, the volunteers and employees time can be registered against the appropriate projects and the grant, and it helps to measure the overall budget spent on the project
Policies
The various policies related to volunteers, such as compensation, performance, objectives, feedback are published for review and continuous improvements for the volunteer
---
Integrations
A Nonprofit organization uses various applications for its operations. TenthPlanet has hands on experience in integrating these applications with Salesforce to achieve data integrity, operational consistency and quality.
TenthPlanet offers secure, reliable and scalable integrations of Salesforce with Legacy system, 3rd party system and App exchange
We have integrated using Salesforce API and enabled seamless data transfer between Salesforce and Microsoft sharepoint.
Our specialization in integrating with app exchange components like fair sail, job science, Getfeedback and Remedy force. The following are the typical Business applications we have extended our connectivity and integrated with Salesforce
Fund raising
Fund raising is the core activity of an NPO and having the supporter information available for other business applications is made seamless
Event booking
NPO's conduct a lot of events for campaigns and donations and these events are placed in popular event booking portals. We provide interfaces to integrate the booking information to the other systems in a NPO
Digital Marketing
We utilize the Salesforce API connectivity with Adestra and mail chimp to support e Mail marketing, digital campaigns of NPO and synch data automatically between the systems
Payment gateway
We use Webservices to connect with the leading payment gateways to support online donation and integrate the data will the supporter system
Survey
A lot of survey questions are posted to the volunteers on the journey and their feedback is incorporated for future program success and the outcomes and we have experience in connecting the survey information from salesforce and synchronize the responses back
Job portals
Having the Job postings published in job sites is an important business process for recruiting volunteers and we integrate information between salesforce and leading job portals like Randstad
Document Management system
For a globally spread NPO, there is a huge repository of documents from different countries on various programs is kept in a document management system [DMS] and we have experience to establish connectivity between DMS and Salesforce and seamlessly transfer Meta data on the documents.
Content Management system
The NPO's have very intuitive portals to publish their ongoing projects, job openings and there needs to be a lot of data transfer between CMS and the Salesforce application which we get it done using Webservices
Medical clearance system
A good checklist of medical clearance is required for volunteers before on boarding and these are accomplished through 3rd party systems and the results are integrated into Salesforce
Back ground check system
For Onboarding international volunteers, an extensive set of background checks needs to be conducted and these are done through 3rd party systems and the results are integrated into Salesforce
Accounting system
Any NPO has to comply with the norms of charity in maintaining accurate information on donations, employee benefits, program expenses and all these information are stored in the Accounting system and data exchange is accomplished between accounting system and Salesforce using SOAP / web services